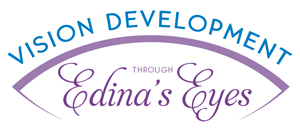 OBSERVATIONS:
Babies often don't focus on you or other targets, as nerve cells in their retina and brain are not fully developed. The infant cannot accommodate (focus on near objects) very well. However, within a few days after birth, infants prefer looking at an image of their mother's face to that of a stranger.  Visual acuity is estimated to be approximately 20/400.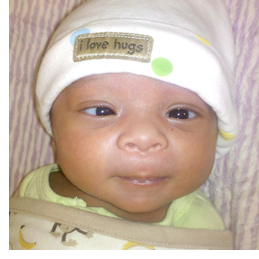 Your child's eyes may look huge!  Your baby's eyes are approximately 65% of their adult size.  They "grow into" their large eyes, as the head develops over time.
Eyes may cross or drift.  This is normal (as seen in this picture of Edina at one month).
At one week after birth, they can see red, orange, yellow and green.  It takes longer for them to see blue and violet.
WHAT TO LOOK FOR:
Begins to develop a smile
Begins to imitate some facial expressions
Watches faces intently
Begins to follow moving objects
OTHER DEVELOPMENTAL MILESTONES:
Stretches legs out and kicks
Opens and shuts hands
Holds head with little support
Pushes down on legs when feet are placed on a firm surface (no, the baby is NOT ready to walk yet!)
Responds to loud noises
Finds hands
Should be able to move eyes in all directions of gaze
HOW TO ENCOURAGE DEVELOPMENT:
Frequent interactions (visual, speech, movement) with your newborn child.
It's ok to leave some lights on in the nursery- it won't affect your baby's ability to sleep (and keeps you from bumping into things when you wake up in the middle of the night!)
Start talking and singing to your child immediately.
Decorate your child's room with bright, cheerful colors.  Include artwork and furnishings with contrasting colors and shapes.  Hang a brightly colored mobile above or near the crib.
CLICK HERE TO READ MORE ABOUT VISION DEVELOPMENT THROUGH EDINA'S EYES